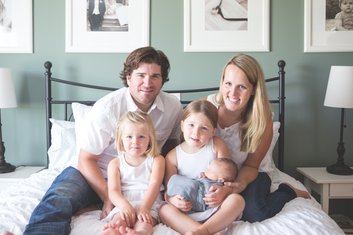 My Approach
My photographic approach is natural, real, candid. It is always my goal to capture the life of my subject. I enjoy shooting on location, in places that have meaning to people and their families. This location may be a special park, up at the lake, in your family room, or in your own backyard. When possible, I prefer to use available light because I love the pureness of what it offers to the situation. Be it a bright, sunshiny day with kids climbing trees, or an overcast day with a child standing inside near a window, the beautiful light is there, and I believe we should use it.
My Perspective
Photography allows me to utilize my creative talent by interpreting and capturing the essence of life. We've all been moved by a photograph that captivates us; one that renders emotion, speaks to the soul, and makes it impossible to look away. For different people, the captivating quality of a photograph means different things; and therein lies that magic of this craft. My perspective is simple- aimed to capture natural life and natural situations. I am drawn to simple, pure images that are timeless and captivating. The natural beauty of children and the family who surrounds them is enough to speak volumes.
About Lindsay van Bergen
I live in Delano, Minnesota with my husband, three children, and dog. I have 13 years of kindergarten teaching experience in Eden Prairie.When I'm not behind my camera, my hobbies include reading, cooking, gardening, camping, and playing outside with my family.
My Story
My aspirations to become a portrait photographer began in high school. I have always had a natural love for working with children, and really found my niche when I began photographing them playing in the backyard, just being kids. I recall spending countless hours in the dark room at school developing film and enlarging prints amidst the funny smell of chemicals, and becoming so eager to see what I had captured. The thrill of this was invigorating to me, and from that point on, I was hooked.
After college, I started a small portrait photography business. This opportunity offered invaluable experience photographing babies, children, families, special events, and weddings. Since then, I have strived to refine my techniques by working with a variety of mentors, good friends, and family who have allowed me to photograph their beautiful children! I launched my photography business, L.O.v.B. Photography, during the summer of 2010.